Lactation Cookies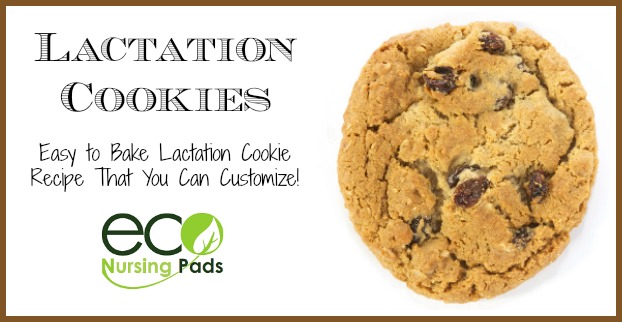 Increasing breast milk production can be fun and delicious with lactation cookies. With this lactation cookie recipe, you can make plain lactation cookies or lactation cookies with chocolate chips, raisins or cranberries. Why oatmeal cookies for lactation? Oatmeal is well known among breastfeeding moms to increase breast milk production and taste delicious. Best yet, you can make these with your own ingredients, gluten free or organic flour, for personalized lactation cookies and find out if lactation cookies work for you!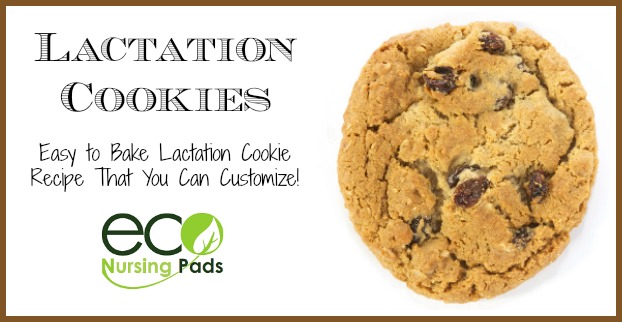 Lactation cookies are a great way to boost breast milk production and make a tasty snack. While we're not sure of the exact reasons oats work to increase breast milk, the benefits are well known among breastfeeding Moms. Here's an easy to bake recipe that you can customize. Don't like raisins? Add chocolate chips! Don't like chocolate chips? Add cranberries! Or, make the recipe plain, with nuts of anything your heart desires. Find that your breasts are leaking from overproduction? Reusable breast pads are a great way to stay comfortable and keep your cotton nursing bra dry and free from breast milk. Dry cookie mix also makes a great baby shower gift or present for a new Mom breastfeeding a newborn baby. Post contains affiliate links.
(Pin Image Below)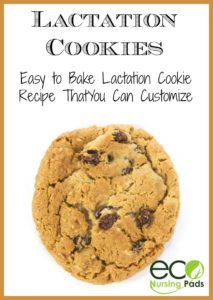 Oatmeal Cookies
Dry Ingredients:
2 Cups flour (sifted)
1 tsp baking soda
1 tsp baking powder
1 tsp salt
Wet Ingredients:
1 Cup unsalted butter
1 Cup sugar (unrefined or organic can be used)
1 Cup brown sugar
2 large eggs
1-2 tsp vanilla (more or less for preference)
The Oats:
2 ½ Cup whole rolled oats
2-4 tbsp brewers yeast
2 tbsp flaxseed meal
1 Cup dried cranberries, or 1 Cup chocolate chips, or 1 Cup Raisins or 1 Cup Chopped nuts or combine two!
Preheat oven to 350°F.  Use your stand mixer or mix in a bowl with a good whisk. Beat butter and sugar together until creamy. Next, add eggs one at a time, and vanilla.
In a medium-sized bowl, sift flour in a strainer, or if you don't have a strainer whisk together flour, baking soda, baking powder and salt, making sure to remove any lumps or bits.
Slowly add dry mixture to butter/sugar combo until combined. Next, add the rolled oats, and beat just long enough to fully incorporate dry ingredients. Don't over-mix.
Next, add your bits. Add chocolate chips, raisins, cranberries or even nuts. Use a small ice cream scoop or large spoon to form gently on an ungreased cookie sheet lined with parchment paper, or a quick spray if parchment paper is unavailable. Bake 10-12 minutes, depending on your oven, and check for consistency. Cookies should be a tad soft in the center and more cooked on the edges, avoid over-baking. When slightly cooled, transfer to a cooling rack until cool enough to eat. Enjoy!
Disclosure: This post makes no attempt to diagnose or treat any condition. Post contains affiliate links. Cookie Photo credit within collage: © Can Stock Photo / toddtaulman